Hi Ken here, with an exciting update on the latest technical developments here at Song and Dance Studios. The technical team (led by Jimmy 'The Ideas Man') are always working away in the background on additions to our facilities. 
As part of our continuous upgrade and improvement programme, we have had our eye on a mechanical ventilation system for some time. Covid-19 accelerated our planning for adding ventilation. We knew it was more important than ever to provide additional amounts of fresh (non-recirculated) air for the Song and Dance kids – for weekly classes and during shows.
As we are always interested in improving our energy efficiency and protecting the planet, we wanted a system that would recycle the heat already in the building so that we can make best use of the electricity and gas we use to keep everyone warm in the colder months.
So, in October 2020 (with support from Fingal Country Council, the Facebook Small Business Grant, and Stage Lighting Centre) we took the jump, and in true Song and Dance style we went big! A brand-new, state-of-the-art Mechanical Heat Recovery Ventilation system (or MHRV to those in the industry) was installed. It was 'all hands on deck', and Jimmy and I had great help from our trusty crew – Noel, Tony, Stephen and Tomás!
How it works: The technical bit
This system uses a high efficiency fan to suck in huge amounts of fresh air from outside, via one big hole in the wall of the studio (see the diagram below). It filters the fresh air and continuously pumps it down the side of the building into Studio 1 and Studio 2.
Another fan sucks air out of the opposite side of Studio 1 and Studio 2 and pumps it back outside through another hole in the wall. At the same time, the machine swaps all of the heat from the air going out into the air going in. This means that the building stays warm, uses as little heating as possible, and we are now getting up to 900,000L of fresh air per hour (previously, we could only achieve this level of air exchange by keeping all windows and doors open).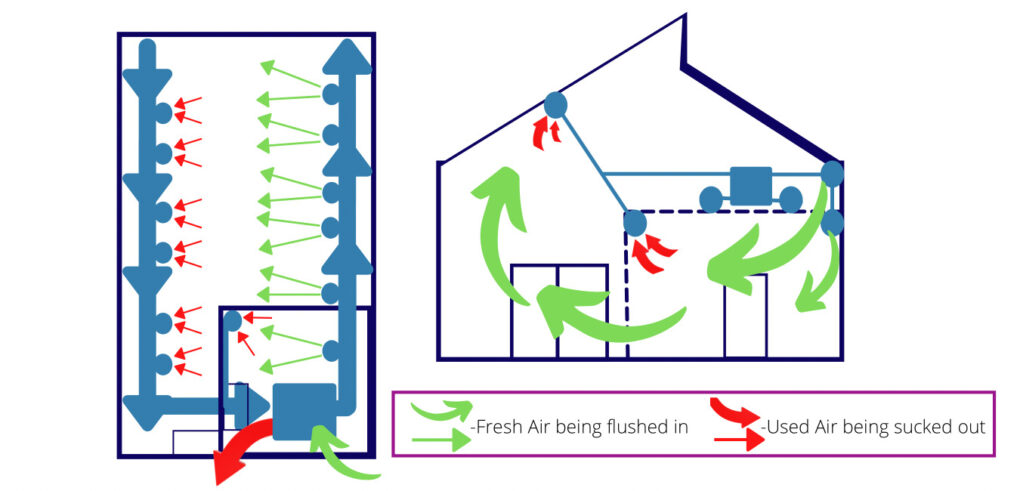 We know that this will help keep us healthy – not just in Covid-19 times, but well into the future – by ensuring our studios are as fresh inside as the sea breeze outside!